Top Story
Police in Serbia briefly clashed with far-right supporters who tried to prevent a gay pride parade attended by the country's openly gay prime minister on Sunday.
The 50th annual Chicago Pride parade was canceled due to severe weather. Our EDGE photographer managed to capture some moments before the rain stopped the floats from moving forward.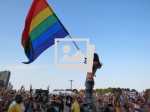 The day before the Pride Parade, Chicago celebrated the 50th anniversary of Pride with Pride in the Park, bringing people together in the heart of the city, with performances by Iggy Azalea, Steve Aoki and Tamar Braxton.
PrideFest took over Boystown in Chicago for two days on June 22nd and 23rd, leading up to the Pride parade the following weekend. Vendor booths, live music and unpredictable weather were all part of the rainbow of fun.
Gay Pride Around the World