Fashion lovers argue that it's not only a business but also a true art, and Christian Siriano made that argument in a literal way on Saturday by bringing an actual artist to his runway, putting the finishing touches on her paintings as models strutted by.
With flower crowns and beauty pageant sashes, Prabal Gurung asked a fundamental question of the day: Who gets to be an American?
Designer Jeremy Scott sent his models down the runway in electric hues, crystal-embedded garments, sparkly sky-high boots and brightly colored wigs, evoking what he called an "intergalactic pop band."
Chris March, fashion designer and star of "Project Runway" Season 4, has died. He was 56.
Tommy Hilfiger never shies away from spectacle when it comes to his runway shows, and his return to New York Fashion Week after several years was no exception.
From a linen and leather pant to a macrame tweed skirt, Tory Burch looked to one of the most important fashion icons of the 20th century for inspiration at New York Fashion Week: Princess Diana.
It was the sixth annual Queer Runway Show at the museum for dapperQ, which uses the rallying cry of "ungendering fashion."
Low-cost fashion retailer H&M said Friday it is suspending leather purchases from Brazil to make sure it is not supporting cattle farming that may be contributing to the fires in the Amazon rainforest.
In celebration of gender-fluid fashion and inclusion of all kinds, the queer-style digital magazine dapperQ threw a runway party at the start of New York Fashion Week.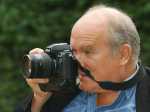 Renowned German fashion photographer Peter Lindbergh, who worked in the 1980s and 1990s with supermodels like Cindy Crawford, Naomi Campbell, Kate Moss and Linda Evangelista, has died. He was 74.