Deadly Diet: Are You Afraid of Illness or Death Because of Your Eating Habits?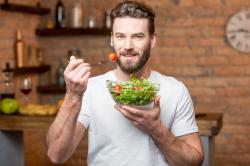 New research has revealed that 40 percent of Americans are afraid of developing serious illnesses due to an unhealthy diet. The nationwide health survey by Spoon Guru also found that 1 in 5 (19%) US citizens fear an untimely death because of what they're eating.

The study unveiled that while 74% of respondents have tried to improve their health over the past year it seemed to be the case that old habits do indeed die hard. A staggering 88% of respondents, who have been trying to lead healthier lifestyles, admitted their diet is still unhealthy, while 68% of those disclosed that they eat five or more meals containing processed food a week, despite half of Americans (50%) claiming they have been eating less processed food over the past year.

The research also found that 46% of Americans eat no more than one piece of fruit a day, and 30% eat no more than one vegetable.

Further to this, the research found that half of US consumers (49%) are eating foods that are lower in fat, sugar or salt, but 44% of these shoppers are using honey or maple syrup as an alternative to sugar - an indication that consumers may lack the knowledge that both products contain high levels of sugar. Additionally, 2 in 5 (42%) respondents admitted they add two or more spoonfuls of sugar to their daily hot drinks.

Looking into consumer spending habits and motivations for purchasing decisions, the study highlighted that 23% of US consumers are now eating less meat. Interestingly, the cost to buy meat was listed as the top reason consumers (45%) believe Americans are reducing meat intake, followed by 37% stating the decrease is due to health-related illnesses associated with eating meat, such as cancer. Meanwhile, a quarter of respondents (26%) suggest the shift is down to:

1. Campaigns encouraging citizens to eat less meat
2. The rise in meat-free options
3. Greater awareness of environmental issues

The survey highlighted that not only does sustainability directly affect food choices of US consumers but socializing does too. The research uncovered that nearly half (47%) of Americans are most likely to ditch their healthy diets on Fridays, with 29% revealing that they struggle to eat healthily because of hectic schedules. Across the week, respondents (29%) said dinners were their least healthy meal of the day, and again being busy hindered their food preference. Admittedly, 31% of respondents stated that evenings are reserved for satisfying their appetites with foods they enjoy, while 35% claimed this was also the time of day when their cravings peaked.

Putting the weekend aside, the research found that losing weight is the number one (53%) reason why Americans are making healthier food choices - this was the core reason for 60% of US women and just a third (43%) of men. Other reasons for changing diets included recommendations from a healthcare expert (32%), having suffered or witnessing a loved one suffer a health scare (17%), and with consumers more informed than ever, technology proved to also be a key enabler for health-conscious citizens (14%).

Markus Stripf, co-founder and CEO of Spoon Guru, commented: "It's clear to see that wellbeing is front of mind for many Americans with well over half making healthier food choices in the past year. However, what seems to be missing is the awareness of the nutritional value of certain foods and the importance of leading a balanced lifestyle.

"The research also showcased that there's an opportunity for retailers to provide further education for consumers, as 54% stated they would like grocers to do more to encourage healthy eating." Stripf continued: "That being said, we have noticed a trend with retailers wanting to enhance the customer experience of personalized food discovery through the use of technology. As a result, we are proactively partnering with retailers in the US and throughout the world to ultimately help consumers achieve their health goals with much more ease."
Comments on Facebook