1 thru 15 of 7080 Stories
An autistic man walks out of a store without paying for a toy he picked up. He's followed by a storekeeper demanding he come back inside. The situation quickly escalates, and police are called.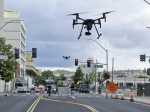 NASA has launched the final stage of a four-year effort to develop a national traffic management system for drones, testing them in cities for the first time beyond the operator's line of sight.
Facebook removed more than 3 billion fake accounts from October to March, twice as many as the previous six months, the company said Thursday. Nearly all of them were caught before they had a chance to become "active" users of the social network.
The dating app is getting an overhaul thanks to Taimi App, which aims to reimagine how members of the LGBTQ connect to one another.
Over the span of two years, a Chinese national in Oregon sent devices that looked like iPhones to Apple, saying they wouldn't turn on and should be replaced under warranty - but they were fakes.
A smartphone app developed by Japanese police is being widely downloaded by women trying to protect themselves from gropers on packed rush-hour trains.
Over the past decade, cryptocurrencies like EOS and bitcoin have become popular among investors looking to make large profits from a new and anonymous form of storing wealth.
Gov. Jay Inslee signed legislation Tuesday making Washington the first state to approve composting as an alternative to burying or cremating human remains.
The International Tracing Service in Germany has uploaded more than 13 million documents from Nazi concentration camps, including prisoner cards and death notices, to help Holocaust researchers and others investigate the fate of victims.
Federal privacy regulations could weaken the strongest state laws and cost consumers their only bargaining chip in the fight over their personal data: Companies' fear that states might put a stop to whatever they're doing.
Google is assuring users of Huawei smartphones the American company's basic services will work on them following U.S. government restrictions on doing business with the Chinese tech giant.
For four decades, Beijing has cajoled or pressured foreign companies to hand over technology. And its trading partners say if that didn't work, China stole what it wanted.
Hit a button, and you're "transformed" into a woman. The beard disappears. The face and jaw smooth out. The hair floats jauntily around the shoulders.
A San Francisco reporter is seeking the return of property after police raided his home with a sledgehammer, as officials sought to determine the source of a leaked police report into the death of the city's public defender.
In Utah, drones are hovering near avalanches to watch roaring snow. In North Carolina, they're searching for the nests of endangered birds. In Kansas, they could soon be identifying sick cows through heat signatures.
1 thru 15 of 7080 Stories