1 thru 15 of 2188 Stories
Over the years, scientists have identified dams, pollution and vessel noise as causes of the troubling decline of the Pacific Northwest's resident killer whales. Now, they may have found a new and more surprising culprit: Pink salmon.
Menashi's volunteer work has included designing puzzle boxes for octopus as well as rubbing their backs and wrestling their arms, all intended to ensure that the highly intelligent animals receive the mental stimulation to thrive.
Chinese investigators have determined that the doctor behind the reported birth of two babies whose genes had been edited acted on his own and will be punished for any violations of the law.
The only total lunar eclipse this year and next came with a supermoon bonus.
For the past 290 million years, large asteroids have been crashing into Earth more than twice as often as they did in the previous 700 million years, according to a new study in Thursday's journal Science.
Sunday night, the Earth will slide directly between the moon and the sun, creating a total lunar eclipse. There won't be another until 2021.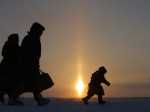 Scientists say the world's permafrost is getting warmer, with temperatures increasing by an average of 0.3 degrees Celsius (0.54 Fahrenheit) over a decade.
Two shark researchers who came face-to-face with what could be one of the largest great whites ever recorded are using their encounter as an opportunity to push for legislation that would protect sharks in Hawaii.
Tens of thousands of embryos are stuck in limbo in fertility clinics, leftovers from pregnancy attempts and broken dreams of parenthood.
How did the earliest land animals move? Scientists have used a nearly 300-million-year old fossil skeleton and preserved ancient footprints to create a moving robot model of prehistoric life.
Of course you know that eating is vital to your survival, but have you ever thought about how your brain controls how much you eat, when you eat and what you eat?
Health officials are looking into a possible link between prescription opioids and a horrific birth defect.
SpaceX said Wednesday that it will build test versions of its Mars spaceship in south Texas instead of the Port of Los Angeles in another blow to the local economy that comes days after the company announced massive layoffs.
Egypt says archaeologists have uncovered two ancient tombs dating back to the Roman period in the country's Western Desert.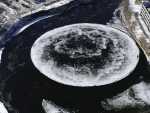 Think of it as a crop circle, but in a river: A curious formation that's getting attention in Greater Portland is actually a spinning ice disk that is roughly 100 yards (91 meters) wide.
1 thru 15 of 2188 Stories