An attorney representing the father of a victim in last year's Florida high school massacre told a judge that mental health counselors must share the blame, because they knew Nikolas Cruz was "a ticking time bomb."
A boy's suicide this week in southern India after his mother scolded him for playing a popular online game has inflamed a national debate over whether the game should be banned.
The European Union's competition watchdog is stepping up its investigation of a U.S. video game platform and five game makers over concerns they blocked players from buying cheaper versions of games in other countries.
In the past, you plunked down $60 at GameStop for a copy of Grand Theft Auto or Madden NFL and played it out — after which you could trade it in or let it gather dust. Now, you'll increasingly have the choice of subscribing to games.
The World Video Game Hall of Fame fielded thousands of nominations for the Class of 2019 from more than 100 countries, hall officials said Thursday after narrowing the field to 12.
Google on Tuesday unveiled a video-game streaming platform called Stadia, positioning itself to take on the traditional video-game business.
Swedish video game maker Markus Alexej Persson is known for making provocative comments, but his take on transwomen, which he shared in a series of tweets, instantly summoned a deluge of critical responses.
Japanese entertainment company Sega has cancelled shipments of its video game "Judgment," also known as "Judge Eyes," after one of its actors was arrested on drug charges.
A Virginia jury has recommended a 30-year prison sentence for a Chesapeake security guard who killed a man prosecutors say was playing "Pokemon Go."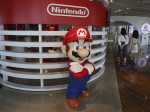 Nintendo's president says the Kyoto-based video game maker behind the Super Mario and Pokemon franchises is counting on business outside the game sector for future growth.
GLAAD is honoring video games for the first time during its 30th annual GLAAD Media Awards.
If you're in Thailand, you should check out these three online game rooms. Besides being licensed, they have an outstanding reputation with avid players and casino insiders. Lady luck is waiting for you!
The Entertainment Software Association reported this year that 45 percent of U.S. gamers are female, yet women make up a scant portion of the professional esports player pool.
McAfee has released results from its survey, "Game Over: The Future of Gaming Security," finding that while gamers profess to exhibit good cybersecurity habits there's still work to do.
Super League is trying to bring structure to an industry devoid of it at the youth level.