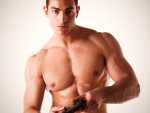 Any claims that there is consistent evidence that violent video games encourage aggression are simply false.
Walmart has ordered workers to remove video game signs and displays that depict violence from stores nationwide after 22 people died in a shooting at one of its Texas stores but will continue to sell guns.
Do video games trigger violent behavior? Scientific studies have found no link. But the persistent theory is back in the headlines following the mass shooting in El Paso, Texas, on Saturday.
Fortnite superstar Tyler "Ninja" Blevins has left Twitch and is taking his video game live streams to Microsoft's Mixer platform, a stunning switch that could have wide-ranging consequences for the rapidly growing industry.
An unopened copy of a 1987 cult-classic video game that a Nevada man found in the attic of his childhood home is expected to sell for up to $10,000 at an online auction.
Kyle Giersdorf, of Pottsgrove, Pennsylvania, won $3 million as the first Fortnite World Cup solo champion. The competition took place Sunday at Arthur Ashe Stadium in New York.
Passengers on a Southwest Airlines flight got more than a small bottle of water when they boarded their plane.
Nintendo Co. plans to start making its Switch video game console in Vietnam this year, transferring some of its production from China, a company spokesman said Tuesday.
Germans itching to shoot virtual Nazis will soon get a chance to do so, after a change in the rules concerning the use of forbidden symbols in video games.
Upcoming sci-fi open world game "Cyberpunk 2077" received lots of good press at the recent Electronic Entertainment Expo (E3) last weekend, but one piece of in-game artwork is drawing criticism from fans for possible transphobia.
Google will kick off its Stadia streaming service to challenge the video game industry in November — but initially only as part of a $130 bundle that includes hardware and a pass for a friend.
The World Video Game Hall of Fame is ready to honor a new group of games for their impact on the industry and pop culture over time.
Enthusiasm for VR has cooled somewhat after years of hype, but China's leaders are trying to drum up excitement, hoping to take the lead in a technology they expect will eventually gain wide use.
Drones ferrying medical supplies, packages and even pizza could one day be crisscrossing the skies above U.S. cities, and a team at the University of Utah is working with regulators to keep that future traffic in check using a video game.
An attorney representing the father of a victim in last year's Florida high school massacre told a judge that mental health counselors must share the blame, because they knew Nikolas Cruz was "a ticking time bomb."